Abuja Air Ambulance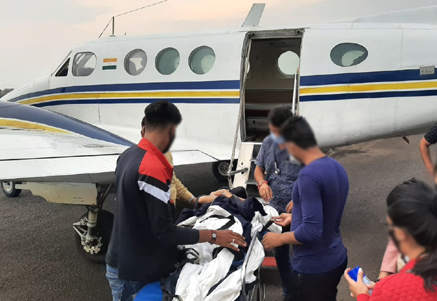 Abuja, city and capital of Nigeria. It lies in the central part of the Abuja federal capital territory (created 1976), approximately 300 miles (480 km) northeast of Lagos, the former capital (until 1991). During the 1980s the new capital city (designed by the Department of Architecture of Ahmadu Bello University in Zaria) was built and developed on the grass-covered Chukuku Hills.

The site was chosen for Nigeria's new capital because of its central location, easy accessibility, salubrious climate, low population density, and the availability of land for future expansion. It was the first planned city to be built in Nigeria. Abuja lies at 1,180 feet (360 m) above sea level and has a cooler climate and less humidity than is found in Lagos. The city was planned with a projected population of about 25,000 in the early stages of occupation and is divided into two zones. The central area contains the National Assembly, the city hall, national cultural institutes, and other government-related offices. The other zone provides housing, shopping facilities, and other urban amenities. The University of Abuja was founded in 1988. Abuja has an airport, and expressways connect the federal capital with other state capitals. High-tension power lines conduct electricity to the city from Shiroro Dam, on the Niger River, 46 miles (75 km) southwest of Abuja.
Airport Information **
(** The Content Provided here is only for Information purposes, Please check Airport Website for Most Updated & Recent Information)
Nnamdi Azikiwe International Airport (IATA: ABV, ICAO: DNAA) is an international airport located in Abuja, FCT, Nigeria, and is the main airport serving the Nigerian capital city. It was named after Nigeria's first President, Dr Nnamdi Azikiwe. It consists of an international and a domestic terminal. Both terminals share the same runway. In 2009, the airport handled 3,196,438 passengers.
The Abuja Gateway Consortium signed on 13 November 2006 an US$101.1 million contract for the management of the airport over the next 25 years. The contract includes the construction of an airport hotel, private car parks, shopping malls and a bonded warehouse, totalling US$50 million, during its first five years in addition to an upfront payment of US$10 million. Total investments will according to the business plan amount to US$371 million during the period of the contract. However, president Yar'Adua revoked the contract in April 2008.
The Nigerian Civil Aviation Authority has its head office on the airport grounds.
Plans were invited for the construction of a second runway. The contract was awarded to Julius Berger for US$423 million in April, but were revoked in June due to the high cost. The Federal Government approved fresh bids for the construction of the second runway.
Airlines
Destinations
Concourse
Aero Contractors
Asaba, Lagos, Owerri,
Port Harcourt, Sokoto,Uyo
Domestic
Air France
Paris-Charles de Gaulle
International
Arik Air
Asaba, Benin City,
Calabar, Enugu, Gombe,
Ibadan, Ilorin, Kano,
Lagos, Maiduguri,
Owerri,Port Harcourt,
Sokoto, Uyo, arri, Yola
Domestic
Arik Air
Accra,
Dubai-International[5]
International
ASKY Airlines
Lomé,
N'Djamena, Yaoundé[6]
International
Azman Air
Kano, Lagos
Domestic
British Airways
London-Heathrow
International
Dana Air
Lagos,
Port Harcourt, Uyo
Domestic
DiscoveryAir Nigeria
Lagos[7]
Domestic
EgyptAir
Cairo
International
Emirates
Dubai-International
International
Ethiopian Airlines
Addis Ababa
International
First Nation Airways
Lagos
Domestic
Kenya Airways
Nairobi-Jomo Kenyatta[8]
International
Lufthansa
Frankfurt
International
Med-View Airline
Lagos Yola
Domestic
Overland Airways
Akure, Asaba,
auchi, Ibadan,
Ilorin
Domestic
Royal Air Maroc
Casablanca
International
Turkish Airlines
Istanbul-Atatürk
International
We Provide the Following Services from Abuja:
» Air Ambulance Services from Abuja
» Emergency Evacuation Services from Abuja
» Ambulance Services from Abuja
» Medical Ambulance Services from Abuja
» Air Ambulance Charter Services from Abuja
» Ground Ambulance Transfer from Abuja
» Telephone Support Abuja
» Medical Advice at Abuja
» Air Ambulance Services from Abuja
---
Air Ambulance Services From Abuja
---
We Provide Air Ambulance Services from All Major Cities in India, Including -
+ Amritsar, Adampur, Agra, Ahmedabad, Allahabad, Agartala, Aizawl, Akola, Amravati, Anand, Andaman Nikobar, Aurangabad, Baraily, Belgaum, Bharuch, Bhatinda, Bhavnagar, Bhilwara, Bhuj, Bihar, Biratnagar, Bathinda, Bhopal, Bikaner, Bokaro, Bhubaneshwar, Bagdogra, Bilaspur, Bhilai, Bangalore, Bareilly, Chennai, Calicut, Cochin, Cochin, Chamba, Chandigarh, Coimbatore, Cuttack, Dhule, Darjeeling, Delhi, Dehradun, Darbhanga, Dharamshala, Dibrugarh, Dimapur, Gaggle, Gandhidham, Gandhigram, Gangtok, Gorakhpur, Goa, Gorakhpur, Guntar, Gagal, Gwalior, Gaya, Guwahati, Ganganagar/Hanumangarh, Haldwani, Hirakud, Hyderabad, Haridwar, Indore, Jalandhar, Jammu, Jabalpur, Jaisalmer, Jamshedpur, Jhansi, Jalgaon, Jorhat, Jodhpur, Jaipur, Jagdalpur, Jamshedpur, Jamnagar, Khajuraho, Katihar, Kullu, Kolkata, Katak, Kota, Kanpur, Kandla, Katni, Kochin, Kohima, Kutch, Leh, Ladakh, Ludhiana, Lucknow, Madurai, Meerut, Mountabu, Mumbai, Madhubani, Madhurai, Manali, Manglore, Muzaffarpur, Mysuru, Nasik, Nagpur, Nainital, Nashik, Noida, Ooty, Patna, Pantnagar, Pathankot, Purnia, Port Blair, Pune, Panjim, Patiala, Pilibhit, Porbandar, Puri, Ranchi, Raipur, Rajahmundry, Raigarh, Rewa, Rourkela, Raigad, Rajkot, Rajnandgaon, Ratnagiri, Sagar, Satna, Solapur, Shilong, Siliguri, Surat, Srinagar, Shimla, Sarsawa/saharanpur, Satara, Sambalpur, Shillong, Silchar, Silchar, Sitapur, Thiruvananthapuram, Tejpur, Tinsikia, Tiruchirapalli, Trivandrum, Udaipur, Ujjain, Varanasi, Vidisha, Vadodara, Vellore, Vishakhapatnam; View All Cities
We Provide Air Ambulance Services from All Major Cities Worldwide, Including -
+ Abuja Air Ambulance , Almaty, Al Ain, Abuja, Abu Dhabi, Afghanistan, Addis Ababa, Bagram, Baghdad, Bali, Bangkok, Bahrain, Bahrain, Chittagong, Candy, Camp Bastion , Colombo, Dubai, Dhaka, Dammam, Doha, Europe, Houston, Karachi, Kampala, Kathmandu, Kandahar, Kuala Lumpur, Kabul, Kenya, Kuwait, Italy, Islamabad, Johor Behru, Lahore, Lagos, London, Mazar E sharif, Male, Muscat, Myanmar, Nairobi, New York, Phuket, Pakistan, Paris, Pokhara, Ras Al Khaimah, Riyadh, Rome, Russia, Singapore, Seattle, Spain, Tashkent, Tanzania, Uganda, USA, Washington, DC, View All Cities