Ahmedabad Air Ambulance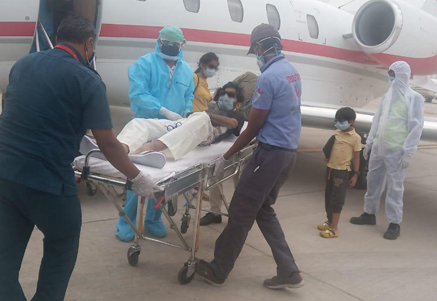 Ahmedabad is the fastest growing city in the world and the best city to live in India according to recent reports, which shows the incredibility of the city.

Ahmedabad is the financial capital of the most developed state (Gujarat) of India in recent times under the leadership of our chief minister Shri Narendra Modi.

Ahmedabad is also known as Amdavad by fellow Amdavadis. Amdavadis are tagged as the shrewdest businessmen in the world and they have a unique style of their own. Business runs in the blood of every average amdavadi.

Ahmedabad was once known as the city of mills or the Manchester of India due to its exquisite mill culture. Ahmedabad is now flooded with malls, multiplexes, premiere institutes and all forms of development.

Amdavadis proudly claim it as the safest city in the world, prime reasons are it being a dry state so there are fewer nuisances of drunkards and hence women feel safe here. Nowhere in the world will you find women enjoying the freedom at night which they do in our own Ahmedabad.

Ahmedabad has many khao galis (Street Food Joints) like Manekchowk, Vastrapur etc. Manekchowk is the busiest street of Ahmedabad on any given evening and Vastrapur Lake is catching up with its status.

Ahmedabad has the world's oldest mall culture 'Gujari Bazaar' set up by the founder of Ahmedabad, Sultan Ahmed Shah.

Ahmedabad has many beautiful lakes like Kankaria Lake, Vastrapur Lake, Chandlodia talao etc. Amdavadis prefer to spend their evenings taking a stroll and enjoying the street food outside these lakes. Kankaria Lake is the oldest lake of Ahmedabad.
---
Airport Information **
(** The Content Provided here is only for Information purposes, Please check Airport Website for Most Updated & Recent Information)
Sardar Vallabhbhai Patel International Airport (IATA: AMD, ICAO: VAAH) is an international airport serving the cities of Ahmedabad and Gandhinagar in Gujarat, India. The airport is located in Hansol, 9 km (5.6 mi) north of central Ahmedabad. It is named after India's first Deputy Prime Minister Sardar Vallabhbhai Patel. It is the eighth busiest airport in overall passenger traffic in India and a focus city for Air India, Blue Dart Aviation, IndiGo, Jet Airways and SpiceJet.
Airlines
Destinations
Terminal
Air Arabia
Sharjah
2
Air Costa
Bangalore,Chennai
1
Air India
Delhi, Mumbai
1
Air India
Chennai, Delhi, Hyderabad,
Kuwait, Mumbai
, Muscat,Newark
2
Emirates
Dubai
2
Etihad Airways
Abu Dhabi
2
flydubai
Dubai
2
GoAir
Delhi, Goa, Guwahati,
Kolkata, Mumbai
1
IndiGo
Bangalore, Chennai,
Delhi, Goa,
Hyderabad, Jaipur,Kochi,
Kolkata, Mumbai
1
Jet Airways
Bangalore, Delhi,
Lucknow, Mumbai
1
Jet Airways
Abu Dhabi
(begins 15 March 2015)[9]
2
JetKonnect
Chennai, Delhi, Guwahati,
Mumbai, Pune
1
Qatar Airways
Doha
2
Singapore Airlines
Singapore
2
SpiceJet
Bangalore, Chennai,
Delhi, Goa,
Kolkata, Mumbai
1
SpiceJet
Dubai, Muscat
2
Vistara
Mumbai, Delhi
1
We Provide the Following Services from Ahmedabad:
» Air Ambulance Services from Ahmedabad
» Emergency Evacuation Services from Ahmedabad
» Ambulance Services from Ahmedabad
» Medical Ambulance Services from Ahmedabad
» Air Ambulance Charter Services from Ahmedabad
» Ground Ambulance Transfer from Ahmedabadp>
» Telephone Support Ahmedabad
» Medical Advice at Ahmedabad
» Air Ambulance Services from Ahmedabad
---
Air Ambulance Services From Ahmedabad
---
We Provide Air Ambulance Services from All Major Cities in India, Including -
+ Amritsar, Adampur, Agra, Ahmedabad, Allahabad, Agartala, Aizawl, Akola, Amravati, Anand, Andaman Nikobar, Aurangabad, Baraily, Belgaum, Bharuch, Bhatinda, Bhavnagar, Bhilwara, Bhuj, Bihar, Biratnagar, Bathinda, Bhopal, Bikaner, Bokaro, Bhubaneshwar, Bagdogra, Bilaspur, Bhilai, Bangalore, Bareilly, Chennai, Calicut, Cochin, Cochin, Chamba, Chandigarh, Coimbatore, Cuttack, Dhule, Darjeeling, Delhi, Dehradun, Darbhanga, Dharamshala, Dibrugarh, Dimapur, Gaggle, Gandhidham, Gandhigram, Gangtok, Gorakhpur, Goa, Gorakhpur, Guntar, Gagal, Gwalior, Gaya, Guwahati, Ganganagar/Hanumangarh, Haldwani, Hirakud, Hyderabad, Haridwar, Indore, Jalandhar, Jammu, Jabalpur, Jaisalmer, Jamshedpur, Jhansi, Jalgaon, Jorhat, Jodhpur, Jaipur, Jagdalpur, Jamshedpur, Jamnagar, Khajuraho, Katihar, Kullu, Kolkata, Katak, Kota, Kanpur, Kandla, Katni, Kochin, Kohima, Kutch, Leh, Ladakh, Ludhiana, Lucknow, Madurai, Meerut, Mountabu, Mumbai, Madhubani, Madhurai, Manali, Manglore, Muzaffarpur, Mysuru, Nasik, Nagpur, Nainital, Nashik, Noida, Ooty, Patna, Pantnagar, Pathankot, Purnia, Port Blair, Pune, Panjim, Patiala, Pilibhit, Porbandar, Puri, Ranchi, Raipur, Rajahmundry, Raigarh, Rewa, Rourkela, Raigad, Rajkot, Rajnandgaon, Ratnagiri, Sagar, Satna, Solapur, Shilong, Siliguri, Surat, Srinagar, Shimla, Sarsawa/saharanpur, Satara, Sambalpur, Shillong, Silchar, Silchar, Sitapur, Thiruvananthapuram, Tejpur, Tinsikia, Tiruchirapalli, Trivandrum, Udaipur, Ujjain, Varanasi, Vidisha, Vadodara, Vellore, Vishakhapatnam; View All Cities
We Provide Air Ambulance Services from All Major Cities Worldwide, Including -
+ Abuja Air Ambulance , Almaty, Al Ain, Abuja, Abu Dhabi, Afghanistan, Addis Ababa, Bagram, Baghdad, Bali, Bangkok, Bahrain, Bahrain, Chittagong, Candy, Camp Bastion , Colombo, Dubai, Dhaka, Dammam, Doha, Europe, Houston, Karachi, Kampala, Kathmandu, Kandahar, Kuala Lumpur, Kabul, Kenya, Kuwait, Italy, Islamabad, Johor Behru, Lahore, Lagos, London, Mazar E sharif, Male, Muscat, Myanmar, Nairobi, New York, Phuket, Pakistan, Paris, Pokhara, Ras Al Khaimah, Riyadh, Rome, Russia, Singapore, Seattle, Spain, Tashkent, Tanzania, Uganda, USA, Washington, DC, View All Cities