Kolkata Air Ambulance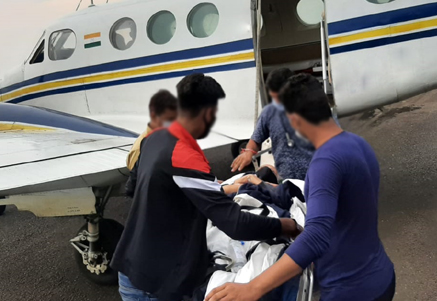 Kolkata retains much of the splendour of yesteryears, with a presence that is at once regal, imposing and memorable, a city worthy of admiration and love.

Armenian ChurchWelcome to Job Charnock's 'chance-directed, chance-erected city, Lapierre's City of Joy'. Kolkata was born in August 1690, following the midday halt of Job Charnock, Chief of the British East India Company, on the eastern banks of the River Hooghly, overlooking the bustling village of Sutanati. The city grew around Sutanati and the adjoining villages of Govindapur and Kalikata (site of the famous Kali Temple ), from which is derived its present name. Charnock's halt ws, however, no accident. Fifty years earlier, Mughal Emperor Shah Jehan had granted a concession of free trade in Bengal to an English surgeon, Gabriel Boughton, as fee for effecting a royal cure.

Over the next 250 years, Kolkata grew into the leading city east of Suez, and the second city of the British Empire. Inextricably interwoven into its history are River Hooghly and the port (Kidderpore Docks), both witness to the eventful and fast changing mulieu of the city. Kolkata's growth was further enhanced by a hinterland rich in coal, iron ore and mineral deposits, and as the focal point for the tea, jute and engineering industries. Today, Kolkata is India's largest metropolis, with a population in excess of 11 million.
---
Airport Information **
(** The Content Provided here is only for Information purposes, Please check Airport Website for Most Updated & Recent Information)
Netaji Subhas Chandra Bose International Airport (IATA: CCU, ICAO: VECC) is an international airport located in Kolkata, West Bengal, India, serving the Kolkata metropolitan area. It is located approximately 17 km (11 mi) from the city center. The airport was earlier known as Dum Dum Airport before being renamed after Netaji Subhas Chandra Bose, a prominent leader of Indian independence movement. Spread over an area of 2,460 acres (1,000 ha), Kolkata airport is the largest in eastern India and one of only two international airports operating in West Bengal, the other being in Bagdogra. It is the fifth busiest airport of India in terms of passenger traffic and is a major center for flights to North-East India, Bangladesh and Southeast Asia.
Airlines
Destinations
Concourse
Air India
Agartala, Aizawl,
Bagdogra,
Bengaluru, Chennai,
Delhi,
Dibrugarh, Dimapur,
Gaya, Guwahati,
Port Blair, Hyderabad,
Imphal, Mumbai,
Silchar
Domestic
Air India
Dhaka, Kathmandu,
Yangon
International
Air India Regional
Guwahati, Lilabari,
Shillong, Silchar,
Tezpur
Domestic
AirAsia
Kuala Lumpur
International
Biman Bangladesh Airlines
Dhaka
International
China Eastern Airlines
Kunming
International
Dragonair
Hong Kong
International
Druk Air
Paro,
Singapore
International
Emirates
Dubai-International
International
Etihad Airways
Abu Dhabi
(begins 15 February 2015)
International
GoAir
Ahmedabad, Bagdogra,
Bhubaneswar,
Delhi,Guwahati,
Mumbai, Nagpur,
Patna,
Port Blair,Pune
Domestic
IndiGo
Agartala, Ahmedabad,
Bagdogra, Bangalore,
Bhubaneshwar,
Chennai, Coimbatore,
Delhi,Dibrugarh,
Goa, Guwahati,
Hyderabad,
Imphal
,Indore, Jaipur,
Kochi,
Lucknow,
Mumbai, Nagpur,
Patna,
Pune, Raipur,
Ranchi
,Thiruvananthapuram,
Vadodara,
Visakhapatnam
Domestic
IndiGo
Bangkok-Suvarnabhumi
International
Jet Airways
Bagdogra, Goa,
Mumbai, Pune,
Domestic
Jet Airways
Dhaka
International
JetKonnect
Agartala, Aizawl,
Bangalore,
Delhi,
Guwahati,
Imphal, Jorhat,
Patna,
Port Blair,
Pune, Ranchi,
Silchar, Varanasi,
Domestic
Qatar Airways
Doha
International
Regent Airways
Chittagong,
Dhaka
International
Silk Air
Singapore
International
Singapore Airlines
Singapore
International
SpiceJet
Agartala
, Ahmedabad,
Bagdogra,
Bangalore,
Chennai, Delhi,
Goa, Guwahati,
Hyderabad,
Lucknow
(Begins 3rd Feb 2015),
Mumbai,
Port Blair,
Surat
Domestic
SpiceJet
Bangkok-Suvarnabhumi,
Kathmandu
International
Tashi Air
Bangkok-Suvarnabhumi,
Paro
International
Thai Airways
Bangkok-Suvarnabhumi
International
United Airways
Chittagong,
Dhaka
International
We Provide the Following Services from Kolkata :
» Air Ambulance Services from Kolkata
» Emergency Evacuation Services from Kolkata
» Ambulance Services from Kolkata
» Medical Ambulance Services from Kolkata
» Air Ambulance Charter Services from Kolkata
» Ground Ambulance Transfer from Kolkata
» Telephone Support Kolkata
» Medical Advice at Kolkata
» Air Ambulance Services from Kolkata
---
Air Ambulance Services From Kolkata
---
We Provide Air Ambulance Services from All Major Cities in India, Including -
+ Amritsar, Adampur, Agra, Ahmedabad, Allahabad, Agartala, Aizawl, Akola, Amravati, Anand, Andaman Nikobar, Aurangabad, Baraily, Belgaum, Bharuch, Bhatinda, Bhavnagar, Bhilwara, Bhuj, Bihar, Biratnagar, Bathinda, Bhopal, Bikaner, Bokaro, Bhubaneshwar, Bagdogra, Bilaspur, Bhilai, Bangalore, Bareilly, Chennai, Calicut, Cochin, Cochin, Chamba, Chandigarh, Coimbatore, Cuttack, Dhule, Darjeeling, Delhi, Dehradun, Darbhanga, Dharamshala, Dibrugarh, Dimapur, Gaggle, Gandhidham, Gandhigram, Gangtok, Gorakhpur, Goa, Gorakhpur, Guntar, Gagal, Gwalior, Gaya, Guwahati, Ganganagar/Hanumangarh, Haldwani, Hirakud, Hyderabad, Haridwar, Indore, Jalandhar, Jammu, Jabalpur, Jaisalmer, Jamshedpur, Jhansi, Jalgaon, Jorhat, Jodhpur, Jaipur, Jagdalpur, Jamshedpur, Jamnagar, Khajuraho, Katihar, Kullu, Kolkata, Katak, Kota, Kanpur, Kandla, Katni, Kochin, Kohima, Kutch, Leh, Ladakh, Ludhiana, Lucknow, Madurai, Meerut, Mountabu, Mumbai, Madhubani, Madhurai, Manali, Manglore, Muzaffarpur, Mysuru, Nasik, Nagpur, Nainital, Nashik, Noida, Ooty, Patna, Pantnagar, Pathankot, Purnia, Port Blair, Pune, Panjim, Patiala, Pilibhit, Porbandar, Puri, Ranchi, Raipur, Rajahmundry, Raigarh, Rewa, Rourkela, Raigad, Rajkot, Rajnandgaon, Ratnagiri, Sagar, Satna, Solapur, Shilong, Siliguri, Surat, Srinagar, Shimla, Sarsawa/saharanpur, Satara, Sambalpur, Shillong, Silchar, Silchar, Sitapur, Thiruvananthapuram, Tejpur, Tinsikia, Tiruchirapalli, Trivandrum, Udaipur, Ujjain, Varanasi, Vidisha, Vadodara, Vellore, Vishakhapatnam; View All Cities
We Provide Air Ambulance Services from All Major Cities Worldwide, Including -
+ Abuja Air Ambulance , Almaty, Al Ain, Abuja, Abu Dhabi, Afghanistan, Addis Ababa, Bagram, Baghdad, Bali, Bangkok, Bahrain, Bahrain, Chittagong, Candy, Camp Bastion , Colombo, Dubai, Dhaka, Dammam, Doha, Europe, Houston, Karachi, Kampala, Kathmandu, Kandahar, Kuala Lumpur, Kabul, Kenya, Kuwait, Italy, Islamabad, Johor Behru, Lahore, Lagos, London, Mazar E sharif, Male, Muscat, Myanmar, Nairobi, New York, Phuket, Pakistan, Paris, Pokhara, Ras Al Khaimah, Riyadh, Rome, Russia, Singapore, Seattle, Spain, Tashkent, Tanzania, Uganda, USA, Washington, DC, View All Cities