Indore Air Ambulance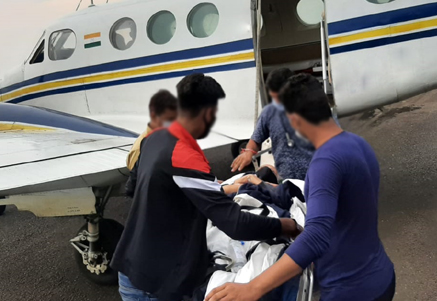 Indore is the largest city in the state of Madhya Pradesh and also its commercial capital. The city is a part of the Malwa plateau. The distance between Indore and Bhopal, the capital of Madhya Pradesh is 190 km. It is exclusively famous for housing both the Indian Institute of Technology (IIT) and the Indian Institute of Management (IIM). The city is also dubbed as Mini Mumbai because it is home to a large number of Marathi people along with other communities. The city is famous for its shopping, entertainment, and exotic cuisines. Software, automobile, and pharmaceuticals are some of the major industries of the city.
Airport Information **
(** The Content Provided here is only for Information purposes, Please check Airport Website for Most Updated & Recent Information)
Devi Ahilyabai Holkar Airport (IATA: IDR, ICAO: VAID) is a public airport that principally serves Indore, Madhya Pradesh, India. It is the busiest airport in the state of and is located 8 km west of Indore. According to the statistics released by the Airports Authority of India, the agency responsible for the airport, it is the 20th. busiest airport in India.

The airport is named after Maharani Ahilya Bai Holkar of Indore, belonging to the Holkar dynasty of the Maratha Empire.
Airlines
Destinations
Air India
Mumbai, Delhi
Charter:Hajj
Jet Airways
Ahmedabad, Chandigarh,
Delhi, Hyderabad,
Jaipur, Jodhpur,
Kolkata, Lucknow,
Mumbai, Patna,
Pune, Vadodara
JetKonnect
Delhi, Mumbai,
Nagpur
IndiGo
Bangalore, Delhi,
Kolkata, Mumbai,
Nagpur, Raipur,
Srinagar
SpiceJet
Bhopal, Delhi,
Hyderabad
Ventura AirConnect
Bhopal, Jabalpur,
Gwalior, Lucknow
We Provide the Following Services from Indore :
» Air Ambulance Services from Indore
» Emergency Evacuation Services from Indore
» Ambulance Services from Indore
» Medical Ambulance Services from Indore
» Air Ambulance Charter Services from Indore
» Ground Ambulance Transfer from Indore p>
» Telephone Support Indore
» Medical Advice at Indore
» Air Ambulance Services from Indore
---
Air Ambulance Services From Indore
---
We Provide Air Ambulance Services from All Major Cities in India, Including -
+ Amritsar, Adampur, Agra, Ahmedabad, Allahabad, Agartala, Aizawl, Akola, Amravati, Anand, Andaman Nikobar, Aurangabad, Baraily, Belgaum, Bharuch, Bhatinda, Bhavnagar, Bhilwara, Bhuj, Bihar, Biratnagar, Bathinda, Bhopal, Bikaner, Bokaro, Bhubaneshwar, Bagdogra, Bilaspur, Bhilai, Bangalore, Bareilly, Chennai, Calicut, Cochin, Cochin, Chamba, Chandigarh, Coimbatore, Cuttack, Dhule, Darjeeling, Delhi, Dehradun, Darbhanga, Dharamshala, Dibrugarh, Dimapur, Gaggle, Gandhidham, Gandhigram, Gangtok, Gorakhpur, Goa, Gorakhpur, Guntar, Gagal, Gwalior, Gaya, Guwahati, Ganganagar/Hanumangarh, Haldwani, Hirakud, Hyderabad, Haridwar, Indore, Jalandhar, Jammu, Jabalpur, Jaisalmer, Jamshedpur, Jhansi, Jalgaon, Jorhat, Jodhpur, Jaipur, Jagdalpur, Jamshedpur, Jamnagar, Khajuraho, Katihar, Kullu, Kolkata, Katak, Kota, Kanpur, Kandla, Katni, Kochin, Kohima, Kutch, Leh, Ladakh, Ludhiana, Lucknow, Madurai, Meerut, Mountabu, Mumbai, Madhubani, Madhurai, Manali, Manglore, Muzaffarpur, Mysuru, Nasik, Nagpur, Nainital, Nashik, Noida, Ooty, Patna, Pantnagar, Pathankot, Purnia, Port Blair, Pune, Panjim, Patiala, Pilibhit, Porbandar, Puri, Ranchi, Raipur, Rajahmundry, Raigarh, Rewa, Rourkela, Raigad, Rajkot, Rajnandgaon, Ratnagiri, Sagar, Satna, Solapur, Shilong, Siliguri, Surat, Srinagar, Shimla, Sarsawa/saharanpur, Satara, Sambalpur, Shillong, Silchar, Silchar, Sitapur, Thiruvananthapuram, Tejpur, Tinsikia, Tiruchirapalli, Trivandrum, Udaipur, Ujjain, Varanasi, Vidisha, Vadodara, Vellore, Vishakhapatnam; View All Cities
We Provide Air Ambulance Services from All Major Cities Worldwide, Including -
+ Abuja Air Ambulance , Almaty, Al Ain, Abuja, Abu Dhabi, Afghanistan, Addis Ababa, Bagram, Baghdad, Bali, Bangkok, Bahrain, Bahrain, Chittagong, Candy, Camp Bastion , Colombo, Dubai, Dhaka, Dammam, Doha, Europe, Houston, Karachi, Kampala, Kathmandu, Kandahar, Kuala Lumpur, Kabul, Kenya, Kuwait, Italy, Islamabad, Johor Behru, Lahore, Lagos, London, Mazar E sharif, Male, Muscat, Myanmar, Nairobi, New York, Phuket, Pakistan, Paris, Pokhara, Ras Al Khaimah, Riyadh, Rome, Russia, Singapore, Seattle, Spain, Tashkent, Tanzania, Uganda, USA, Washington, DC, View All Cities