Tashkent Air Ambulance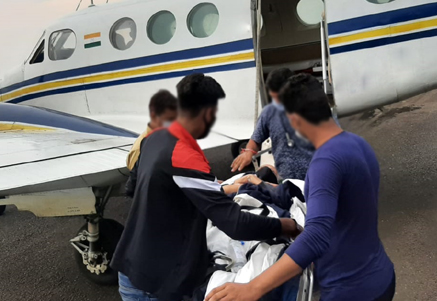 Tashkent is the capital of Uzbekistan, Uzbekistan's largest city (population 2,400,000) is also Central Asia's largest city and its main transportation hub. At present, Tashkent is one of the most important business centers in Central Asia. Present-day Tashkent is one of the most beautiful cities in Asia, and its architecture is unique; the hospitality and friendliness of Tashkent people is amazing.

The city is more than 2200 years old, and has evolved from a small ancient settlement to the one of the largest metropolitan areas in the region. Many remarkable events, both in peace and war, have taken place during the history of Tashkent, including many periods of rise and decline. The city is host to Embassies and consulates of many countries of the world, and is known among travelers as a great place to stay and arrange visa and trips throughout the region; Tashkent lies right on the border with Kazakhstan and also is known as the main "gates of the Orient" on international air routes from India, Afghanistan, Pakistan, and China to Europe.

The Tashkent Metro, currently the only subway in Central Asia, is fantastically designed in a unique, monumental Uzbek-Soviet style. It is never crowded, and the easiest and cheapest way to quickly transit the city. Tashkent is simply bursting with interesting museums, ancient historical sites, lush parks, and a diverse selection of high-quality restaurants, nightclubs and shops.

The city of Tashkent is located within Tashkent Region, which lies in the far northeastern corner of Uzbekistan, near the border with Kazakhstan and Kyrgyzstan. Its area covers 15,300 sq km; 10% percent of the total population of Uzbekistan lives in the Tashkent Region. The majority are Uzbeks, but more than 90 other nationalities also live here, primarily Russians, Kazakhs, Tajiks, Kyrgyz, and ethnic Koreans. The average population density is more than 146 persons per sq. km.

The Tashkent Region consists of 15 districts, 16 towns, 17 settlement, and 147 kishlak (villages) councils. It is situated between the western slopes of the Tien Shan Mountains and the Syrdarya river.
---
Airport Information **
(** The Content Provided here is only for Information purposes, Please check Airport Website for Most Updated & Recent Information)
Tashkent International Airport (IATA: TAS, ICAO: UTTT)) is the main international airport of Uzbekistan and the busiest airport in Central Asia. It is located 12 km (7.5 mi) from the center of Tashkent.
| | | |
| --- | --- | --- |
| Airlines | Destinations | Concourse |
| Aeroflot | Moscow-Sheremetyevo | 2-International |
| Aeroflot operated by Donavia | Saint Petersburg | 2-International |
| Air Astana | Almaty, Astana | 2-International |
| airBaltic | Seasonal: Riga | 2-International |
| Asiana Airlines | Seoul-Incheon | 2-International |
| Avia Traffic Company | Bishkek | 2-International |
| China Southern Airlines | Beijing-Capital, Ürümqi | 2-International |
| Czech Airlines | Seasonal: Prague | 2-International |
| IrAero | Omsk | 2-International |
| Iran Air | Tehran-Imam Khomeini | 2-International |
| Korean Air | Seoul-Incheon | 2-International |
| Kyrgyzstan Air Company | Bishkek | 2-International |
| S7 Airlines | Novosibirsk | 2-International |
| SCAT | Almaty | 2-International |
| Transaero Airlines | Moscow-Vnukovo | 2-International |
| Turkish Airlines | Istanbul-Atatürk | 2-International |
| Ukraine International Airlines | Kiev-Boryspil | 2-International |
| Ural Airlines | Chelyabinsk, Kaliningrad, Krasnodar, Krasnoyarsk-Yemelyanovo, Nizhniy Novgorod, Samara, Yekaterinburg | 2-International |
| UTair Aviation | Moscow-Vnukovo | 2-International |
| Uzbekistan Airways | Almaty, Amritsar, Astana, Baku, Bangkok-Suvarnabhumi, Beijing-Capital, Bishkek, Delhi, Dubai-International, Frankfurt, Geneva, Istanbul-Atatürk, Istanbul-Sabiha Gökçen, Kazan, Khabarovsk, Kiev-Boryspil, Krasnodar, Krasnoyarsk-Yemelyanovo, Kuala Lumpur, London-Heathrow, Milan-Malpensa, Mineralnye Vody, Minsk-National (begins 30 March 2015), Moscow-Domodedovo, New York-JFK, Nizhnevartovsk, Novosibirsk, Paris-Charles de Gaulle, Riga, Rome-Fiumicino, Rostov-on-Don, Saint Petersburg, Samara, Seoul-Incheon, Sharjah, Singapore, Sochi, Tel Aviv-Ben Gurion, Tokyo-Narita, Tyumen, Ufa, Ürümqi, Volgograd, Yekaterinburg | 2-International |
| Uzbekistan Airways | Andizhan, Bukhara, Fergana, Karshi, Namangan, Navoi, Nukus, Samarkand, Termez, Urgench, Zarafshan | 3-Domestic |
We Provide the Following Services from Tashkent :
» Air Ambulance Services from Tashkent
» Emergency Evacuation Services from Tashkent
» Ambulance Services from Tashkent
» Medical Ambulance Services from Tashkent
» Air Ambulance Charter Services from Tashkent
» Ground Ambulance Transfer from Tashkent
» Telephone Support Tashkent
» Medical Advice at Tashkent
» Air Ambulance Services from Tashkent
---
Air Ambulance Services From Tashkent
---
We Provide Air Ambulance Services from All Major Cities in India, Including -
+ Amritsar, Adampur, Agra, Ahmedabad, Allahabad, Agartala, Aizawl, Akola, Amravati, Anand, Andaman Nikobar, Aurangabad, Baraily, Belgaum, Bharuch, Bhatinda, Bhavnagar, Bhilwara, Bhuj, Bihar, Biratnagar, Bathinda, Bhopal, Bikaner, Bokaro, Bhubaneshwar, Bagdogra, Bilaspur, Bhilai, Bangalore, Bareilly, Chennai, Calicut, Cochin, Cochin, Chamba, Chandigarh, Coimbatore, Cuttack, Dhule, Darjeeling, Delhi, Dehradun, Darbhanga, Dharamshala, Dibrugarh, Dimapur, Gaggle, Gandhidham, Gandhigram, Gangtok, Gorakhpur, Goa, Gorakhpur, Guntar, Gagal, Gwalior, Gaya, Guwahati, Ganganagar/Hanumangarh, Haldwani, Hirakud, Hyderabad, Haridwar, Indore, Jalandhar, Jammu, Jabalpur, Jaisalmer, Jamshedpur, Jhansi, Jalgaon, Jorhat, Jodhpur, Jaipur, Jagdalpur, Jamshedpur, Jamnagar, Khajuraho, Katihar, Kullu, Kolkata, Katak, Kota, Kanpur, Kandla, Katni, Kochin, Kohima, Kutch, Leh, Ladakh, Ludhiana, Lucknow, Madurai, Meerut, Mountabu, Mumbai, Madhubani, Madhurai, Manali, Manglore, Muzaffarpur, Mysuru, Nasik, Nagpur, Nainital, Nashik, Noida, Ooty, Patna, Pantnagar, Pathankot, Purnia, Port Blair, Pune, Panjim, Patiala, Pilibhit, Porbandar, Puri, Ranchi, Raipur, Rajahmundry, Raigarh, Rewa, Rourkela, Raigad, Rajkot, Rajnandgaon, Ratnagiri, Sagar, Satna, Solapur, Shilong, Siliguri, Surat, Srinagar, Shimla, Sarsawa/saharanpur, Satara, Sambalpur, Shillong, Silchar, Silchar, Sitapur, Thiruvananthapuram, Tejpur, Tinsikia, Tiruchirapalli, Trivandrum, Udaipur, Ujjain, Varanasi, Vidisha, Vadodara, Vellore, Vishakhapatnam; View All Cities
We Provide Air Ambulance Services from All Major Cities Worldwide, Including -
+ Abuja Air Ambulance , Almaty, Al Ain, Abuja, Abu Dhabi, Afghanistan, Addis Ababa, Bagram, Baghdad, Bali, Bangkok, Bahrain, Bahrain, Chittagong, Candy, Camp Bastion , Colombo, Dubai, Dhaka, Dammam, Doha, Europe, Houston, Karachi, Kampala, Kathmandu, Kandahar, Kuala Lumpur, Kabul, Kenya, Kuwait, Italy, Islamabad, Johor Behru, Lahore, Lagos, London, Mazar E sharif, Male, Muscat, Myanmar, Nairobi, New York, Phuket, Pakistan, Paris, Pokhara, Ras Al Khaimah, Riyadh, Rome, Russia, Singapore, Seattle, Spain, Tashkent, Tanzania, Uganda, USA, Washington, DC, View All Cities