Gwalior Air Ambulance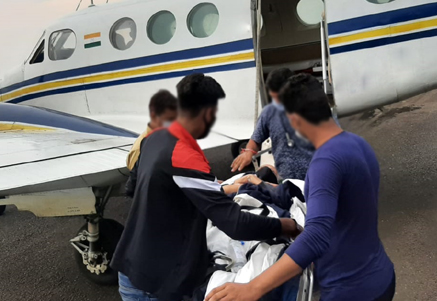 The ancient capital of Gwalior is steeped in the splendour of its past. A multitude of regning dynasties, of the great Rajput clans of the Pratiharas. Kachwahas and Tomars have left indelible etching of their rule in this city of palaces, temples and monuments. The magnificent momentoes of a glorious past have been preserved with care, giving Gwalior a unique and timeless appeal.

Gwalior's history is traced back to a legend: In 8 A.D. , a chieftain called Suraj Sen was stricken by a deadly disease. He was cured by a hermitsaint, Gwalipa, and in gratitude founded a city which he named after the saint who had given him the gift of a new life.

The new city of Gwalior became, over the centuries, the cradle of great dynasties and with each, the city gained new dimensions from warrior kings, poets, musicians and saints, contributing 10 making it a capital renowned throughout the country. Today , Gwalior is a modern Indian city, vibrant and bustling.
Airport Information **
(** The Content Provided here is only for Information purposes, Please check Airport Website for Most Updated & Recent Information)
Gwalior Airport (IATA: GWL, ICAO: VIGR) is a civil enclave airport at the Maharajpur Air Force Station 10 Kilometres north-east of Gwalior, Madhya Pradesh, India. It is one of the four prominent Airports of Madhya Pradesh.
We Provide the Following Services from Gwalior :
» Air Ambulance Services from Gwalior
» Emergency Evacuation Services from Gwalior
» Ambulance Services from Gwalior
» Medical Ambulance Services from Gwalior
» Air Ambulance Charter Services from Gwalior
» Ground Ambulance Transfer from Gwalior p>
» Telephone Support Gwalior
» Medical Advice at Gwalior
» Air Ambulance Services from Gwalior
---
Air Ambulance Services From Gwalior
---
We Provide Air Ambulance Services from All Major Cities in India, Including -
+ Amritsar, Adampur, Agra, Ahmedabad, Allahabad, Agartala, Aizawl, Akola, Amravati, Anand, Andaman Nikobar, Aurangabad, Baraily, Belgaum, Bharuch, Bhatinda, Bhavnagar, Bhilwara, Bhuj, Bihar, Biratnagar, Bathinda, Bhopal, Bikaner, Bokaro, Bhubaneshwar, Bagdogra, Bilaspur, Bhilai, Bangalore, Bareilly, Chennai, Calicut, Cochin, Cochin, Chamba, Chandigarh, Coimbatore, Cuttack, Dhule, Darjeeling, Delhi, Dehradun, Darbhanga, Dharamshala, Dibrugarh, Dimapur, Gaggle, Gandhidham, Gandhigram, Gangtok, Gorakhpur, Goa, Gorakhpur, Guntar, Gagal, Gwalior, Gaya, Guwahati, Ganganagar/Hanumangarh, Haldwani, Hirakud, Hyderabad, Haridwar, Indore, Jalandhar, Jammu, Jabalpur, Jaisalmer, Jamshedpur, Jhansi, Jalgaon, Jorhat, Jodhpur, Jaipur, Jagdalpur, Jamshedpur, Jamnagar, Khajuraho, Katihar, Kullu, Kolkata, Katak, Kota, Kanpur, Kandla, Katni, Kochin, Kohima, Kutch, Leh, Ladakh, Ludhiana, Lucknow, Madurai, Meerut, Mountabu, Mumbai, Madhubani, Madhurai, Manali, Manglore, Muzaffarpur, Mysuru, Nasik, Nagpur, Nainital, Nashik, Noida, Ooty, Patna, Pantnagar, Pathankot, Purnia, Port Blair, Pune, Panjim, Patiala, Pilibhit, Porbandar, Puri, Ranchi, Raipur, Rajahmundry, Raigarh, Rewa, Rourkela, Raigad, Rajkot, Rajnandgaon, Ratnagiri, Sagar, Satna, Solapur, Shilong, Siliguri, Surat, Srinagar, Shimla, Sarsawa/saharanpur, Satara, Sambalpur, Shillong, Silchar, Silchar, Sitapur, Thiruvananthapuram, Tejpur, Tinsikia, Tiruchirapalli, Trivandrum, Udaipur, Ujjain, Varanasi, Vidisha, Vadodara, Vellore, Vishakhapatnam; View All Cities
We Provide Air Ambulance Services from All Major Cities Worldwide, Including -
+ Abuja Air Ambulance , Almaty, Al Ain, Abuja, Abu Dhabi, Afghanistan, Addis Ababa, Bagram, Baghdad, Bali, Bangkok, Bahrain, Bahrain, Chittagong, Candy, Camp Bastion , Colombo, Dubai, Dhaka, Dammam, Doha, Europe, Houston, Karachi, Kampala, Kathmandu, Kandahar, Kuala Lumpur, Kabul, Kenya, Kuwait, Italy, Islamabad, Johor Behru, Lahore, Lagos, London, Mazar E sharif, Male, Muscat, Myanmar, Nairobi, New York, Phuket, Pakistan, Paris, Pokhara, Ras Al Khaimah, Riyadh, Rome, Russia, Singapore, Seattle, Spain, Tashkent, Tanzania, Uganda, USA, Washington, DC, View All Cities