Cochin Air Ambulance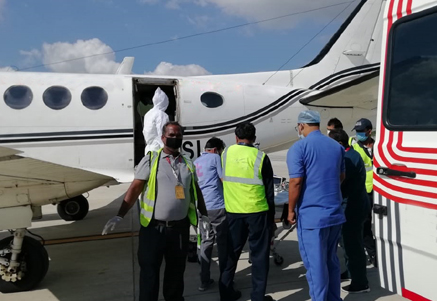 Camp Bastion was set up in 2006 by 2 RAF pers
Surrounded by the Western Ghats on the east and the Arabian Sea on the west, Kochi, formerly known as Cochin, is an important and beautiful port city of Kerala. It is located in the district of Ernakulam, about 220 km north of the state capital Thiruvananthapuram. The city has an estimated population of 600,000, with an extended metropolitan population of about 1.5 million. It boasts of a world-class port, which connects it to many important cities over the world. Etymologically, many theories exist pertaining how Kochi derived its name. One says the city's modern name is derived from the Malayalam words, Koch Azhi, meaning 'small lagoon'. Whereas, as per some old manuscripts, the traders who came here from the court of Chinese ruler, Khubilai Khan, during ancient times, gave Cochin the name of their homeland. However, one thing constant about the city is that its strategic location has always made it stand out as a significant commercial and industrial hub of Kerala. During the 14th century, Kochi gained a reputation of being an important spice-trading center.
---
Airport Information **
(** The Content Provided here is only for Information purposes, Please check Airport Website for Most Updated & Recent Information)
INS Garuda (ICAO: VOCC), is an Indian naval air station located near Kochi, in the state of Kerala. Commissioned on 11 May 1953, it is the oldest operating air station of the Indian Navy. The air station is adjacent to INS Venduruthy and the headquarters of Southern Naval Command. INS Garuda is a major naval air training center as well as an operational base.
Airlines
Destinations
Air Arabia
Sharjah
Air India
Coimbatore, Delhi, Dubai, Jeddah,
Mumbai, Riyadh, Sharjah,Kochi
Air India Express
Abu Dhabi, Al Ain, Bahrain, Dammam, Doha, Dubai, Kochi,
Kuwait,Mangalore,Muscat, Mumbai,
Salalah, Sharjah, Thiruvanathapuram
Baharin Air
Baharin
Emirates
Dubai
Etihad Airways
Abu Dhabi
IndiGo
Delhi, Dubai, Mumbai (all begin 1 January 2015)
Jet Airways
Dammam, Doha, Mumbai
Oman Air
Muscat
Qatar Airways
Doha
Saudia
Dammam, Jeddah, Riyadh
SpiceJet
Bangalore, Chennai, Hyderabad
We Provide the Following Services from Cochin :
» Air Ambulance Services from Cochin
» Emergency Evacuation Services from Cochin
» Ambulance Services from Cochin
» Medical Ambulance Services from Cochin
» Air Ambulance Charter Services from Cochin
» Ground Ambulance Transfer from Cochin p>
» Telephone Support Cochin
» Medical Advice at Cochin
» Air Ambulance Services from Cochin
---
Air Ambulance Services From Cochin
---
We Provide Air Ambulance Services from All Major Cities in India, Including -
+ Amritsar, Adampur, Agra, Ahmedabad, Allahabad, Agartala, Aizawl, Akola, Amravati, Anand, Andaman Nikobar, Aurangabad, Baraily, Belgaum, Bharuch, Bhatinda, Bhavnagar, Bhilwara, Bhuj, Bihar, Biratnagar, Bathinda, Bhopal, Bikaner, Bokaro, Bhubaneshwar, Bagdogra, Bilaspur, Bhilai, Bangalore, Bareilly, Chennai, Calicut, Cochin, Cochin, Chamba, Chandigarh, Coimbatore, Cuttack, Dhule, Darjeeling, Delhi, Dehradun, Darbhanga, Dharamshala, Dibrugarh, Dimapur, Gaggle, Gandhidham, Gandhigram, Gangtok, Gorakhpur, Goa, Gorakhpur, Guntar, Gagal, Gwalior, Gaya, Guwahati, Ganganagar/Hanumangarh, Haldwani, Hirakud, Hyderabad, Haridwar, Indore, Jalandhar, Jammu, Jabalpur, Jaisalmer, Jamshedpur, Jhansi, Jalgaon, Jorhat, Jodhpur, Jaipur, Jagdalpur, Jamshedpur, Jamnagar, Khajuraho, Katihar, Kullu, Kolkata, Katak, Kota, Kanpur, Kandla, Katni, Kochin, Kohima, Kutch, Leh, Ladakh, Ludhiana, Lucknow, Madurai, Meerut, Mountabu, Mumbai, Madhubani, Madhurai, Manali, Manglore, Muzaffarpur, Mysuru, Nasik, Nagpur, Nainital, Nashik, Noida, Ooty, Patna, Pantnagar, Pathankot, Purnia, Port Blair, Pune, Panjim, Patiala, Pilibhit, Porbandar, Puri, Ranchi, Raipur, Rajahmundry, Raigarh, Rewa, Rourkela, Raigad, Rajkot, Rajnandgaon, Ratnagiri, Sagar, Satna, Solapur, Shilong, Siliguri, Surat, Srinagar, Shimla, Sarsawa/saharanpur, Satara, Sambalpur, Shillong, Silchar, Silchar, Sitapur, Thiruvananthapuram, Tejpur, Tinsikia, Tiruchirapalli, Trivandrum, Udaipur, Ujjain, Varanasi, Vidisha, Vadodara, Vellore, Vishakhapatnam; View All Cities
We Provide Air Ambulance Services from All Major Cities Worldwide, Including -
+ Abuja Air Ambulance , Almaty, Al Ain, Abuja, Abu Dhabi, Afghanistan, Addis Ababa, Bagram, Baghdad, Bali, Bangkok, Bahrain, Bahrain, Chittagong, Candy, Camp Bastion , Colombo, Dubai, Dhaka, Dammam, Doha, Europe, Houston, Karachi, Kampala, Kathmandu, Kandahar, Kuala Lumpur, Kabul, Kenya, Kuwait, Italy, Islamabad, Johor Behru, Lahore, Lagos, London, Mazar E sharif, Male, Muscat, Myanmar, Nairobi, New York, Phuket, Pakistan, Paris, Pokhara, Ras Al Khaimah, Riyadh, Rome, Russia, Singapore, Seattle, Spain, Tashkent, Tanzania, Uganda, USA, Washington, DC, View All Cities