Jammu Air Ambulance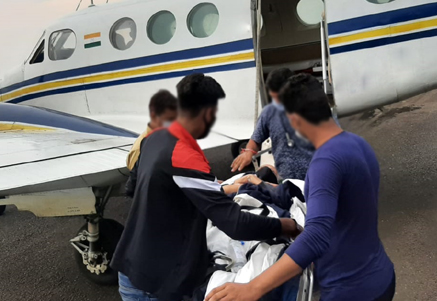 Jammu, the city of ancient temples is the second largest city of the northern Indian state of Jammu and Kashmir and is also its winter capital. This holy city is located along River Tawi in the foot hills of the Himalayas. Jammu offers the widest diversity of terrain and beauty. The entire region is pocketed with lakes and valleys.

Divided into two separate cities, the old town of Jammu is located on a hilltop overlooking the river Tawi while the new town is situated across the river, several kilometers away.

Being near the Himalayas, the climate of the entire area is cold though summers are markedly warm. The temperatures range from 26.2 Degree Celsius to 4.3 Degree Ceisius in winters and from 43.0 Degree Celsius to 23.4 Degree Celsius during summers. The recommended clothing for winters would be heavy/medium woolens while light cottons would be the best for summers in Jammu. Summers in Jammu are a sweltering, uncomfortable contrast to the cool climates of Kashmir. However, from October onwards, it becomes quite pleasant.
---
Airport Information **
(** The Content Provided here is only for Information purposes, Please check Airport Website for Most Updated & Recent Information)
Jammu Airport also known as Satwari Airport (IATA: IXJ, ICAO: VIJU) is an soles airport in Jammu, Jammu and Kashmir, India. It is situated 14 km (8.7 miles) from the international border between India and Pakistan.
Airlines
Destinations
Air India
Delhi, Leh,
Srinagar
GoAir
Bhubaneswar , Delhi,
Mumbai, Nagpur,
Pune, Srinagar
IndiGo
Delhi, Mumbai,
Srinagar
JetKonnect
Delhi, Mumbai,
Pune, Srinagar ,
Lucknow
SpiceJet
Delhi, Hyderabad,
Mumbai,
Srinagar
We Provide the Following Services from Jammu :
» Air Ambulance Services from Jammu
» Emergency Evacuation Services from Jammu
» Ambulance Services from Jammu
» Medical Ambulance Services from Jammu
» Air Ambulance Charter Services from Jammu
» Ground Ambulance Transfer from Jammu
» Telephone Support Jammu
» Medical Advice at Jammu
» Air Ambulance Services from Jammu
---
Air Ambulance Services From Jammu
---
We Provide Air Ambulance Services from All Major Cities in India, Including -
+ Amritsar, Adampur, Agra, Ahmedabad, Allahabad, Agartala, Aizawl, Akola, Amravati, Anand, Andaman Nikobar, Aurangabad, Baraily, Belgaum, Bharuch, Bhatinda, Bhavnagar, Bhilwara, Bhuj, Bihar, Biratnagar, Bathinda, Bhopal, Bikaner, Bokaro, Bhubaneshwar, Bagdogra, Bilaspur, Bhilai, Bangalore, Bareilly, Chennai, Calicut, Cochin, Cochin, Chamba, Chandigarh, Coimbatore, Cuttack, Dhule, Darjeeling, Delhi, Dehradun, Darbhanga, Dharamshala, Dibrugarh, Dimapur, Gaggle, Gandhidham, Gandhigram, Gangtok, Gorakhpur, Goa, Gorakhpur, Guntar, Gagal, Gwalior, Gaya, Guwahati, Ganganagar/Hanumangarh, Haldwani, Hirakud, Hyderabad, Haridwar, Indore, Jalandhar, Jammu, Jabalpur, Jaisalmer, Jamshedpur, Jhansi, Jalgaon, Jorhat, Jodhpur, Jaipur, Jagdalpur, Jamshedpur, Jamnagar, Khajuraho, Katihar, Kullu, Kolkata, Katak, Kota, Kanpur, Kandla, Katni, Kochin, Kohima, Kutch, Leh, Ladakh, Ludhiana, Lucknow, Madurai, Meerut, Mountabu, Mumbai, Madhubani, Madhurai, Manali, Manglore, Muzaffarpur, Mysuru, Nasik, Nagpur, Nainital, Nashik, Noida, Ooty, Patna, Pantnagar, Pathankot, Purnia, Port Blair, Pune, Panjim, Patiala, Pilibhit, Porbandar, Puri, Ranchi, Raipur, Rajahmundry, Raigarh, Rewa, Rourkela, Raigad, Rajkot, Rajnandgaon, Ratnagiri, Sagar, Satna, Solapur, Shilong, Siliguri, Surat, Srinagar, Shimla, Sarsawa/saharanpur, Satara, Sambalpur, Shillong, Silchar, Silchar, Sitapur, Thiruvananthapuram, Tejpur, Tinsikia, Tiruchirapalli, Trivandrum, Udaipur, Ujjain, Varanasi, Vidisha, Vadodara, Vellore, Vishakhapatnam; View All Cities
We Provide Air Ambulance Services from All Major Cities Worldwide, Including -
+ Abuja Air Ambulance , Almaty, Al Ain, Abuja, Abu Dhabi, Afghanistan, Addis Ababa, Bagram, Baghdad, Bali, Bangkok, Bahrain, Bahrain, Chittagong, Candy, Camp Bastion , Colombo, Dubai, Dhaka, Dammam, Doha, Europe, Houston, Karachi, Kampala, Kathmandu, Kandahar, Kuala Lumpur, Kabul, Kenya, Kuwait, Italy, Islamabad, Johor Behru, Lahore, Lagos, London, Mazar E sharif, Male, Muscat, Myanmar, Nairobi, New York, Phuket, Pakistan, Paris, Pokhara, Ras Al Khaimah, Riyadh, Rome, Russia, Singapore, Seattle, Spain, Tashkent, Tanzania, Uganda, USA, Washington, DC, View All Cities