Katak Air Ambulance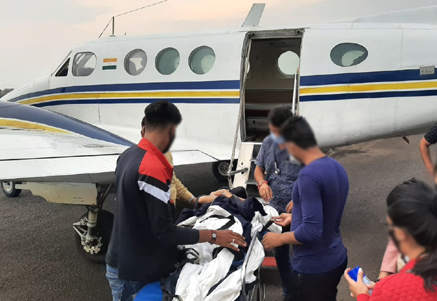 Cuttack District is one of the oldest Districts of Odisha.It is an important city and District headquarters.Cuttack, which lends its name to the District, is known as the business capital of Odisha.The word Cuttack derives its name from the anglicized sanskrit word Kataka, which has two meanings-one being military camp and the other being the seat of government, protected by the army.Literally, it also means the fort, referring to the ancient Barabati Fort, around which the city developed.This city takes pride in the fact that it had been the capital of Odisha, before its shifting to Bhubaneswar, the new capital.

Geographically, it is located at a latitude of 20 degree 03 to 20 degree 40 N and a longitude of 84 degree 58" to 86 degree 20 E. Cuttack city is flanked by Mahanadi river on the north and Kathajodi river on the south. Covering a geographical area of 3932 sq kms, the District is highly populated. The District experiences tropical climate, with the summer being hot and the winter cold. The maximum temperature that this District experiences is well above 40 degree Celsius (during summer) and the minimum is as low as 10 deg C (during winter). Summer generally lasts from March to June and winter, from October to February. Rainfall is generally heavy during the monsoons, which occur during the months of July and August. The average rainfall received is around 1892.55 mm in the District. South West monsoon is primarily responsible for the rainfall.
Airport Information **
(** The Content Provided here is only for Information purposes, Please check Airport Website for Most Updated & Recent Information)

Charbatia Air Base is located approximately 10 km north of Cuttack, Odisha in eastern India. It is an aerial reconnaissance post of the intelligence agency's aviation unit, the Aviation Research Centre (ARC). The Research and Analysis Wing, India's primary foreign intelligence agency, operates intelligence collection aircraft through the ARC. The aircraft are fitted with electronic surveillance equipment and long range cameras capable of taking pictures of targets from high altitudes. The base was built with the assistance of the Central Intelligence Agency in the early 1960s and was used for aerial surveillance and intelligence gathering of China's strategic forces.
We Provide the Following Services from Katak:
» Air Ambulance Services from Katak
» Emergency Evacuation Services from Katak
» Ambulance Services from Katak
» Medical Ambulance Services from Katak
» Air Ambulance Charter Services from Katak
» Ground Ambulance Transfer from Katak
» Telephone Support Katak
» Medical Advice at Katak
» Air Ambulance Services from Katak

---
Air Ambulance Services From Katak
---
We Provide Air Ambulance Services from All Major Cities in India, Including -
+ Amritsar, Adampur, Agra, Ahmedabad, Allahabad, Agartala, Aizawl, Akola, Amravati, Anand, Andaman Nikobar, Aurangabad, Baraily, Belgaum, Bharuch, Bhatinda, Bhavnagar, Bhilwara, Bhuj, Bihar, Biratnagar, Bathinda, Bhopal, Bikaner, Bokaro, Bhubaneshwar, Bagdogra, Bilaspur, Bhilai, Bangalore, Bareilly, Chennai, Calicut, Cochin, Cochin, Chamba, Chandigarh, Coimbatore, Cuttack, Dhule, Darjeeling, Delhi, Dehradun, Darbhanga, Dharamshala, Dibrugarh, Dimapur, Gaggle, Gandhidham, Gandhigram, Gangtok, Gorakhpur, Goa, Gorakhpur, Guntar, Gagal, Gwalior, Gaya, Guwahati, Ganganagar/Hanumangarh, Haldwani, Hirakud, Hyderabad, Haridwar, Indore, Jalandhar, Jammu, Jabalpur, Jaisalmer, Jamshedpur, Jhansi, Jalgaon, Jorhat, Jodhpur, Jaipur, Jagdalpur, Jamshedpur, Jamnagar, Khajuraho, Katihar, Kullu, Kolkata, Katak, Kota, Kanpur, Kandla, Katni, Kochin, Kohima, Kutch, Leh, Ladakh, Ludhiana, Lucknow, Madurai, Meerut, Mountabu, Mumbai, Madhubani, Madhurai, Manali, Manglore, Muzaffarpur, Mysuru, Nasik, Nagpur, Nainital, Nashik, Noida, Ooty, Patna, Pantnagar, Pathankot, Purnia, Port Blair, Pune, Panjim, Patiala, Pilibhit, Porbandar, Puri, Ranchi, Raipur, Rajahmundry, Raigarh, Rewa, Rourkela, Raigad, Rajkot, Rajnandgaon, Ratnagiri, Sagar, Satna, Solapur, Shilong, Siliguri, Surat, Srinagar, Shimla, Sarsawa/saharanpur, Satara, Sambalpur, Shillong, Silchar, Silchar, Sitapur, Thiruvananthapuram, Tejpur, Tinsikia, Tiruchirapalli, Trivandrum, Udaipur, Ujjain, Varanasi, Vidisha, Vadodara, Vellore, Vishakhapatnam; View All Cities
We Provide Air Ambulance Services from All Major Cities Worldwide, Including -
+ Abuja Air Ambulance , Almaty, Al Ain, Abuja, Abu Dhabi, Afghanistan, Addis Ababa, Bagram, Baghdad, Bali, Bangkok, Bahrain, Bahrain, Chittagong, Candy, Camp Bastion , Colombo, Dubai, Dhaka, Dammam, Doha, Europe, Houston, Karachi, Kampala, Kathmandu, Kandahar, Kuala Lumpur, Kabul, Kenya, Kuwait, Italy, Islamabad, Johor Behru, Lahore, Lagos, London, Mazar E sharif, Male, Muscat, Myanmar, Nairobi, New York, Phuket, Pakistan, Paris, Pokhara, Ras Al Khaimah, Riyadh, Rome, Russia, Singapore, Seattle, Spain, Tashkent, Tanzania, Uganda, USA, Washington, DC, View All Cities