Goa Air Ambulance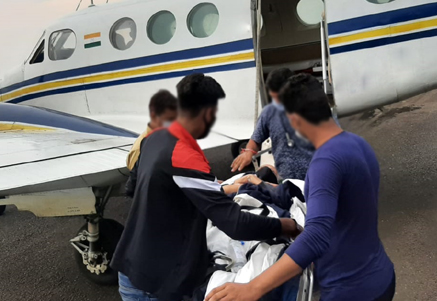 Goa which was liberated on 19th December, 1961 alongwhh Daman and Diu from 451 years Portuguese Colonial Rule, became the 25th State of the Indian Union when it was conferred Statehood on 30th May, 1987.

The State of Goa has a Legislative Assembly with a strength of 40 elected members. Besides, Goa has three elected representatives in the Central Parliament. The Governor is the Head of the State and is advised by a Council of Ministers headed by Chief Minister. Panaji, a small picturesque town on the left bank of river Mandovi, is the seat of the State Administration. However, for administrative purposes, the State has been divided into two districts: North Goa and South Goa with headquarters at Panaji and Margao respectively, and six divisions comprising 11 Talukas.

Ensconced on the slopes of the Western ghats (Sahyadri ranges) Goa is bounded on the North by Sindhudurg district of Maharashtra, on the East by Belgaum, on the South by Karwar district of Kamataka and on the West by Arabian Sea. Its rivers, Tiracol,Chapora, Mandovi, Zuari, Sal and Talpona, which are navigable throughout the year, have their origin in the Sahyadri ranges and flow westward into the Arabian Sea, 60 kms. away, breaking the long coast line covering a length of 105 kms. into enchanting estuaries and bays which mark off idyllic palm-fringed beaches like Arambol, Vagator,Atijuna, Baga and Calangute in the North and Colva. Betui and Palolem in the South.
---
Airport Information **
(** The Content Provided here is only for Information purposes, Please check Airport Website for Most Updated & Recent Information)
Goa International Airport (IATA: GOI, ICAO: VOGO), more commonly known as Dabolim Airport, is an international airport located in the city of Dabolim in Goa, India. It is the only airport in the state and operates as a civil enclave in a military airbase named INS Hansa. It is 4 km from the nearest city Vasco da Gama, 23 km from the South Goa district headquarters of Margao, and 30 km from the capital city Panjim.
Airlines
Destinations
Terminal
Aeroflot
Seasonal:
Moscow-Sheremetyevo
2
Aeroflot operated by Rossiya
Seasonal:
Saint Petersburg
2
Air Arabia
Sharjah
2
Air India
Delhi, Kolkata,
Mumbai, Pune,
Kochi
1
Air India
Bangalore, Chennai,
Dubai, Kuwait,
Mumbai, Muscat
2
AirAsia India
Bangalore
1
Condor
Seasonal:
Munich[18][19]
2
Finnair
Seasonal:
Helsinki, Sharjah
2
GoAir
Ahmedabad, Bangalore,
Chandigarh, Kolkata,
Lucknow, Mumbai
1
IndiGo
Ahmedabad, Chandigarh
, Delhi, Hyderabad Kolkata,
Lucknow, Mumbai,
1
Jet Airways
Chennai, Mumbai
2
Jet Airways
Abu Dhabi [20]
2
JetKonnect
Bangalore, Mumbai
1
Kharkiv Airlines
Seasonal: Kiev-Boryspil
2
Monarch Airlines
Seasonal:
London-Gatwick,
Manchester
2
Novair
Seasonal: Copenhagen,
Gothenburg-Landvetter,
Stockholm-Arlanda
2
Nordwind Airlines
Seasonal:
Novosibirsk,
Krasnoyarsk
2
Orenair
Seasonal: Yekaterinburg,
Perm, Samara,
Rostov-on-Don,
Ufa
2
Qatar Airways
Doha
2
SCAT Airlines
Astana
2
SpiceJet
Ahmedabad, Chennai,
Delhi, Hyderabad,
Jaipur, Kochi,
Kolkata,
Mumbai
1
Thomas Cook Airlines
Seasonal: London-Gatwick,
Manchester,
Edinburgh (Begins 13th Jan 2015),
Barcelona,
Tenerife South
2
Thomson Airways
Seasonal:
London-Gatwick,
Manchester,
Glasgow (Begins 15th Jan 2015)
2
Transaero Airlines
Seasonal:
Moscow-Sheremetyevo,
Yekaterinburg,
Perm, Novosibirsk
2
Ukraine International Airlines
Seasonal:
Al Ain, Kiev-Boryspil
2
UTair Aviation
Seasonal:
Yekaterinburg
2
VIM Airlines
Seasonal:
Moscow-Domodedovo
2
We Provide the Following Services from Goa :
» Air Ambulance Services from Goa
» Emergency Evacuation Services from Goa
» Ambulance Services from Goa
» Medical Ambulance Services from Goa
» Air Ambulance Charter Services from Goa
» Ground Ambulance Transfer from Goa p>
» Telephone Support Goa
» Medical Advice at Goa
» Air Ambulance Services from Goa
---
Air Ambulance Services From Goa
---
We Provide Air Ambulance Services from All Major Cities in India, Including -
+ Amritsar, Adampur, Agra, Ahmedabad, Allahabad, Agartala, Aizawl, Akola, Amravati, Anand, Andaman Nikobar, Aurangabad, Baraily, Belgaum, Bharuch, Bhatinda, Bhavnagar, Bhilwara, Bhuj, Bihar, Biratnagar, Bathinda, Bhopal, Bikaner, Bokaro, Bhubaneshwar, Bagdogra, Bilaspur, Bhilai, Bangalore, Bareilly, Chennai, Calicut, Cochin, Cochin, Chamba, Chandigarh, Coimbatore, Cuttack, Dhule, Darjeeling, Delhi, Dehradun, Darbhanga, Dharamshala, Dibrugarh, Dimapur, Gaggle, Gandhidham, Gandhigram, Gangtok, Gorakhpur, Goa, Gorakhpur, Guntar, Gagal, Gwalior, Gaya, Guwahati, Ganganagar/Hanumangarh, Haldwani, Hirakud, Hyderabad, Haridwar, Indore, Jalandhar, Jammu, Jabalpur, Jaisalmer, Jamshedpur, Jhansi, Jalgaon, Jorhat, Jodhpur, Jaipur, Jagdalpur, Jamshedpur, Jamnagar, Khajuraho, Katihar, Kullu, Kolkata, Katak, Kota, Kanpur, Kandla, Katni, Kochin, Kohima, Kutch, Leh, Ladakh, Ludhiana, Lucknow, Madurai, Meerut, Mountabu, Mumbai, Madhubani, Madhurai, Manali, Manglore, Muzaffarpur, Mysuru, Nasik, Nagpur, Nainital, Nashik, Noida, Ooty, Patna, Pantnagar, Pathankot, Purnia, Port Blair, Pune, Panjim, Patiala, Pilibhit, Porbandar, Puri, Ranchi, Raipur, Rajahmundry, Raigarh, Rewa, Rourkela, Raigad, Rajkot, Rajnandgaon, Ratnagiri, Sagar, Satna, Solapur, Shilong, Siliguri, Surat, Srinagar, Shimla, Sarsawa/saharanpur, Satara, Sambalpur, Shillong, Silchar, Silchar, Sitapur, Thiruvananthapuram, Tejpur, Tinsikia, Tiruchirapalli, Trivandrum, Udaipur, Ujjain, Varanasi, Vidisha, Vadodara, Vellore, Vishakhapatnam; View All Cities
We Provide Air Ambulance Services from All Major Cities Worldwide, Including -
+ Abuja Air Ambulance , Almaty, Al Ain, Abuja, Abu Dhabi, Afghanistan, Addis Ababa, Bagram, Baghdad, Bali, Bangkok, Bahrain, Bahrain, Chittagong, Candy, Camp Bastion , Colombo, Dubai, Dhaka, Dammam, Doha, Europe, Houston, Karachi, Kampala, Kathmandu, Kandahar, Kuala Lumpur, Kabul, Kenya, Kuwait, Italy, Islamabad, Johor Behru, Lahore, Lagos, London, Mazar E sharif, Male, Muscat, Myanmar, Nairobi, New York, Phuket, Pakistan, Paris, Pokhara, Ras Al Khaimah, Riyadh, Rome, Russia, Singapore, Seattle, Spain, Tashkent, Tanzania, Uganda, USA, Washington, DC, View All Cities