Lucknow Air Ambulance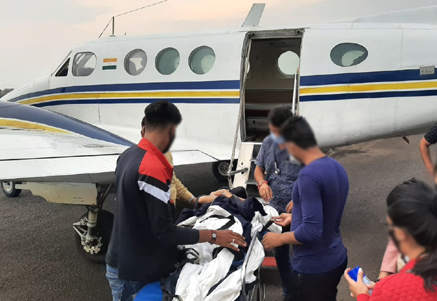 Lucknow is the capital city of Uttar Pradesh State in India and the 2nd most populous city of the State. At present, population of Lucknow is about 28,81,416. Lucknow is also the administrative headquarters of Lucknow District and Lucknow Division.

Lucknow has always been a multicultural city. Courtly manners, beautiful gardens, poetry, music, and fine cuisine patronized by the earlier Nawabs of the city are well known in the whole world. Lucknow is popularly known as the The City of Nawabs.

History of Lucknow is believed to begin after the brother of Suryawanshi king Lord Rama, Lakshmana, established a town at the present site of Lakshman Tila (Tile Vali Mosque). Lucknow was then named Lakshmanpuri or Lakhanpuri or Laknamau after him. Slowly the name Lakhanpuri became 'Lakhnau' and then named Lucknow.
---
Airport Information **
(** The Content Provided here is only for Information purposes, Please check Airport Website for Most Updated & Recent Information)
Chaudhary Charan Singh International Airport((IATA: LKO, ICAO: VILK), is situated at Amausi in the city of Lucknow, India. It is the 8th busiest airport in India and the busiest in Uttar Pradesh.
Airlines
Destinations
Terminal
Air India
Delhi, Mumbai
2
Air India Regional
Dehradun
2
Air India Express
Dubai, Sharjah
1
flydubai
Dubai
1
GoAir
Bhubaneswar, Delhi,
Mumbai
2
IndiGo
Bangalore, Delhi, Kolkata,
Patna, Mumbai,
Srinagar (Begins 2nd Jan 2015),
Jaipur (Starts 23th Feb 2015)
2
Jet Airways
Delhi,Mumbai
2
Jet Airways
Abu Dhabi
1
JetKonnect
Delhi
2
Oman Air
Muscat
1
Saudia
Dammam,
Jeddah, Riyadh
1
Ventura Air Connect
Charter: Allahabad,
Varanasi, Satna,
Jabalpur, Dehradun,
Indore , Bhopal
2
We Provide the Following Services from Lucknow :
» Air Ambulance Services from Lucknow
» Emergency Evacuation Services from Lucknow
» Ambulance Services from Lucknow
» Medical Ambulance Services from Lucknow
» Air Ambulance Charter Services from Lucknow
» Ground Ambulance Transfer from Lucknow
» Telephone Support Lucknow
» Medical Advice at Lucknow
» Air Ambulance Services from Lucknow
---
Air Ambulance Services From Lucknow
---
We Provide Air Ambulance Services from All Major Cities in India, Including -
+ Amritsar, Adampur, Agra, Ahmedabad, Allahabad, Agartala, Aizawl, Akola, Amravati, Anand, Andaman Nikobar, Aurangabad, Baraily, Belgaum, Bharuch, Bhatinda, Bhavnagar, Bhilwara, Bhuj, Bihar, Biratnagar, Bathinda, Bhopal, Bikaner, Bokaro, Bhubaneshwar, Bagdogra, Bilaspur, Bhilai, Bangalore, Bareilly, Chennai, Calicut, Cochin, Cochin, Chamba, Chandigarh, Coimbatore, Cuttack, Dhule, Darjeeling, Delhi, Dehradun, Darbhanga, Dharamshala, Dibrugarh, Dimapur, Gaggle, Gandhidham, Gandhigram, Gangtok, Gorakhpur, Goa, Gorakhpur, Guntar, Gagal, Gwalior, Gaya, Guwahati, Ganganagar/Hanumangarh, Haldwani, Hirakud, Hyderabad, Haridwar, Indore, Jalandhar, Jammu, Jabalpur, Jaisalmer, Jamshedpur, Jhansi, Jalgaon, Jorhat, Jodhpur, Jaipur, Jagdalpur, Jamshedpur, Jamnagar, Khajuraho, Katihar, Kullu, Kolkata, Katak, Kota, Kanpur, Kandla, Katni, Kochin, Kohima, Kutch, Leh, Ladakh, Ludhiana, Lucknow, Madurai, Meerut, Mountabu, Mumbai, Madhubani, Madhurai, Manali, Manglore, Muzaffarpur, Mysuru, Nasik, Nagpur, Nainital, Nashik, Noida, Ooty, Patna, Pantnagar, Pathankot, Purnia, Port Blair, Pune, Panjim, Patiala, Pilibhit, Porbandar, Puri, Ranchi, Raipur, Rajahmundry, Raigarh, Rewa, Rourkela, Raigad, Rajkot, Rajnandgaon, Ratnagiri, Sagar, Satna, Solapur, Shilong, Siliguri, Surat, Srinagar, Shimla, Sarsawa/saharanpur, Satara, Sambalpur, Shillong, Silchar, Silchar, Sitapur, Thiruvananthapuram, Tejpur, Tinsikia, Tiruchirapalli, Trivandrum, Udaipur, Ujjain, Varanasi, Vidisha, Vadodara, Vellore, Vishakhapatnam; View All Cities
We Provide Air Ambulance Services from All Major Cities Worldwide, Including -
+ Abuja Air Ambulance , Almaty, Al Ain, Abuja, Abu Dhabi, Afghanistan, Addis Ababa, Bagram, Baghdad, Bali, Bangkok, Bahrain, Bahrain, Chittagong, Candy, Camp Bastion , Colombo, Dubai, Dhaka, Dammam, Doha, Europe, Houston, Karachi, Kampala, Kathmandu, Kandahar, Kuala Lumpur, Kabul, Kenya, Kuwait, Italy, Islamabad, Johor Behru, Lahore, Lagos, London, Mazar E sharif, Male, Muscat, Myanmar, Nairobi, New York, Phuket, Pakistan, Paris, Pokhara, Ras Al Khaimah, Riyadh, Rome, Russia, Singapore, Seattle, Spain, Tashkent, Tanzania, Uganda, USA, Washington, DC, View All Cities