Gaya Air Ambulance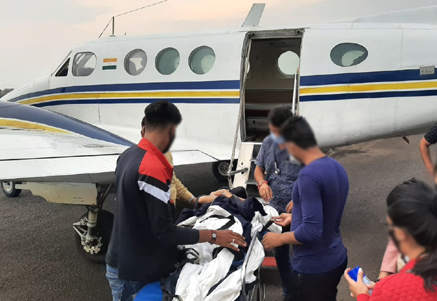 Bihar has some of the most sacred Buddhist and Hindu shrines. Gaya is one of the most important pilgrimage places for the Hindus. It is believed that a Hindu will reach heaven if his last rites are offered under the celebrated 'Akshayabat' or immortal banyan tree, standing in the yard of Vishnupad temple. Believed to be built on the footsteps of Vishnu, the grand temple was renovated by Ahalyabai, queen of Indore.
Airport Information **
(** The Content Provided here is only for Information purposes, Please check Airport Website for Most Updated & Recent Information)
Gaya Airport,also known as Bodhgaya Airport, (IATA: GAY, ICAO: VEGY) is a public airport serving Gaya, Bihar, India. This airport is 5 kilometres away from the temple city of Bodhgaya which is Gautama Buddha's place of enlightenment. It is the second busiest airport in Bihar after Patna.

Gaya airport is spread over an area of 954 acres. An additional 100 acres of land is under encroachment while another 100 acres of land from four villages is to be acquired for runway expansion. The airport terminal building, spread over 7,500 square metres can handle 250 incoming and 250 outgoing passengers. The Airports Authority of India (AAI) plans to develop the airport as a standby to the Kolkata Airport.
Airlines
Destinations
Air India
New Delhi, Kolkata, Varanasi, Yangon
Buddha Air
Kathmandu
Druk Air
Paro, Kathmandu
Golden Myanmar Airlines
Charter: Yangon
Indian
New Delhi, Kolkata, Varanasi
Mihin Lanka
Seasonal: Colombo, Hambantota
Myanmar Airways International
Mandalay, Yangon
Thai Airways International
Seasonal: Bangkok-Suvarnabhumi, Varanasi
We Provide the Following Services from Gaya :
» Air Ambulance Services from Gaya
» Emergency Evacuation Services from Gaya
» Ambulance Services from Gaya
» Medical Ambulance Services from Gaya
» Air Ambulance Charter Services from Gaya
» Ground Ambulance Transfer from Gaya p>
» Telephone Support Gaya
» Medical Advice at Gaya
» Air Ambulance Services from Gaya
---
Air Ambulance Services From Gaya
---
We Provide Air Ambulance Services from All Major Cities in India, Including -
+ Amritsar, Adampur, Agra, Ahmedabad, Allahabad, Agartala, Aizawl, Akola, Amravati, Anand, Andaman Nikobar, Aurangabad, Baraily, Belgaum, Bharuch, Bhatinda, Bhavnagar, Bhilwara, Bhuj, Bihar, Biratnagar, Bathinda, Bhopal, Bikaner, Bokaro, Bhubaneshwar, Bagdogra, Bilaspur, Bhilai, Bangalore, Bareilly, Chennai, Calicut, Cochin, Cochin, Chamba, Chandigarh, Coimbatore, Cuttack, Dhule, Darjeeling, Delhi, Dehradun, Darbhanga, Dharamshala, Dibrugarh, Dimapur, Gaggle, Gandhidham, Gandhigram, Gangtok, Gorakhpur, Goa, Gorakhpur, Guntar, Gagal, Gwalior, Gaya, Guwahati, Ganganagar/Hanumangarh, Haldwani, Hirakud, Hyderabad, Haridwar, Indore, Jalandhar, Jammu, Jabalpur, Jaisalmer, Jamshedpur, Jhansi, Jalgaon, Jorhat, Jodhpur, Jaipur, Jagdalpur, Jamshedpur, Jamnagar, Khajuraho, Katihar, Kullu, Kolkata, Katak, Kota, Kanpur, Kandla, Katni, Kochin, Kohima, Kutch, Leh, Ladakh, Ludhiana, Lucknow, Madurai, Meerut, Mountabu, Mumbai, Madhubani, Madhurai, Manali, Manglore, Muzaffarpur, Mysuru, Nasik, Nagpur, Nainital, Nashik, Noida, Ooty, Patna, Pantnagar, Pathankot, Purnia, Port Blair, Pune, Panjim, Patiala, Pilibhit, Porbandar, Puri, Ranchi, Raipur, Rajahmundry, Raigarh, Rewa, Rourkela, Raigad, Rajkot, Rajnandgaon, Ratnagiri, Sagar, Satna, Solapur, Shilong, Siliguri, Surat, Srinagar, Shimla, Sarsawa/saharanpur, Satara, Sambalpur, Shillong, Silchar, Silchar, Sitapur, Thiruvananthapuram, Tejpur, Tinsikia, Tiruchirapalli, Trivandrum, Udaipur, Ujjain, Varanasi, Vidisha, Vadodara, Vellore, Vishakhapatnam; View All Cities
We Provide Air Ambulance Services from All Major Cities Worldwide, Including -
+ Abuja Air Ambulance , Almaty, Al Ain, Abuja, Abu Dhabi, Afghanistan, Addis Ababa, Bagram, Baghdad, Bali, Bangkok, Bahrain, Bahrain, Chittagong, Candy, Camp Bastion , Colombo, Dubai, Dhaka, Dammam, Doha, Europe, Houston, Karachi, Kampala, Kathmandu, Kandahar, Kuala Lumpur, Kabul, Kenya, Kuwait, Italy, Islamabad, Johor Behru, Lahore, Lagos, London, Mazar E sharif, Male, Muscat, Myanmar, Nairobi, New York, Phuket, Pakistan, Paris, Pokhara, Ras Al Khaimah, Riyadh, Rome, Russia, Singapore, Seattle, Spain, Tashkent, Tanzania, Uganda, USA, Washington, DC, View All Cities